Demarus Dye| BKD TV Insiders
So the Road to Madness is almost at a close with on the Women's Side we have Connecticut, South Carolina, Notre Dame & Maryland going down to Tampa Bay & on the Men's End we have Kentucky, Wisconsin, Duke & Michigan State in Indianapolis. On the Women's side this is only the 3rd time ever all 4 #1 Seeds make it to the Final Four, on the Men's Side we have 3 of the 4 #1 Seeds in Indy. Lets preview all 4 matchups for both Final Four's.
Men's Final Four in Indianapolis, Saturday April 4
7 Michigan State Spartans vs. 1 Duke Blue Devils 6:09pm TBS. Analysts- Jim Nantz, Bill Raftery, Grant Hill, Tracy Wolfson
Duke & Michigan State played each other in November @ the Champions Classic, which Duke won 81-71. Michigan State only went 60% from the Free Throw Line & only shot 25% from 3 Point while Duke shot 50% from 3 Point in that contest. The Keys for Michigan State to stop Duke is to stop Jahlil Okafor & to contain the outside shooting from Duke. Michigan State like they did in the East Regional Final vs. Louisville, hit clutch Free Throws for that win in OT. 2 Great coaches with the Spartans Tom Izzo & Duke's Mike Krzyzewski which is in his 12th Final Four. Duke is ranked 4th in scoring in the country at 80.6 points, while Michigan State is ranked 67th in scoring per game  at 71.9 points. I predicted Duke would get to the Final & I will stick with Duke going to the National Championship game.
1 Wisconsin Badgers vs. 1 Kentucky Wildcats 8:49pm TBS. Analysts- Jim Nantz, Bill Raftery, Grant Hill, Tracy Wolfson
National Championship Game in Indianapolis, Monday April 6 9:18pm CBS. Analysts- Jim Nantz, Bill Raftery, Grant Hill, Tracy Wolfson
Kentucky had the scare to their march to 40-0 on Saturday in the Midwest Regional Final vs. Notre Dame, Wisconsin has been waiting one year to get back to the Final Four & it's fitting to have the team that beat them last season, to rematch with them this year. Wisconsin lose by a point to Kentucky mainly because they got out rebounded in the game, they shot Free Throw's better better than Kentucky, but Kentucky got them in FG Pct% & tied for 3 Point Pct. The Wildcats will rely on defense, while the Badgers will try not to foul & turnover the ball. The Key matchup in this contest will be Frank Kaminsky vs. Willie Cauley-Stein & Karl-Anthony Towns, Kentucky is 9 players deep & they do play well. Can Wisconsin play the best game of the season to win, I think they will come close, but Kentucky will be 39-0 going into Monday Night National Championship Game.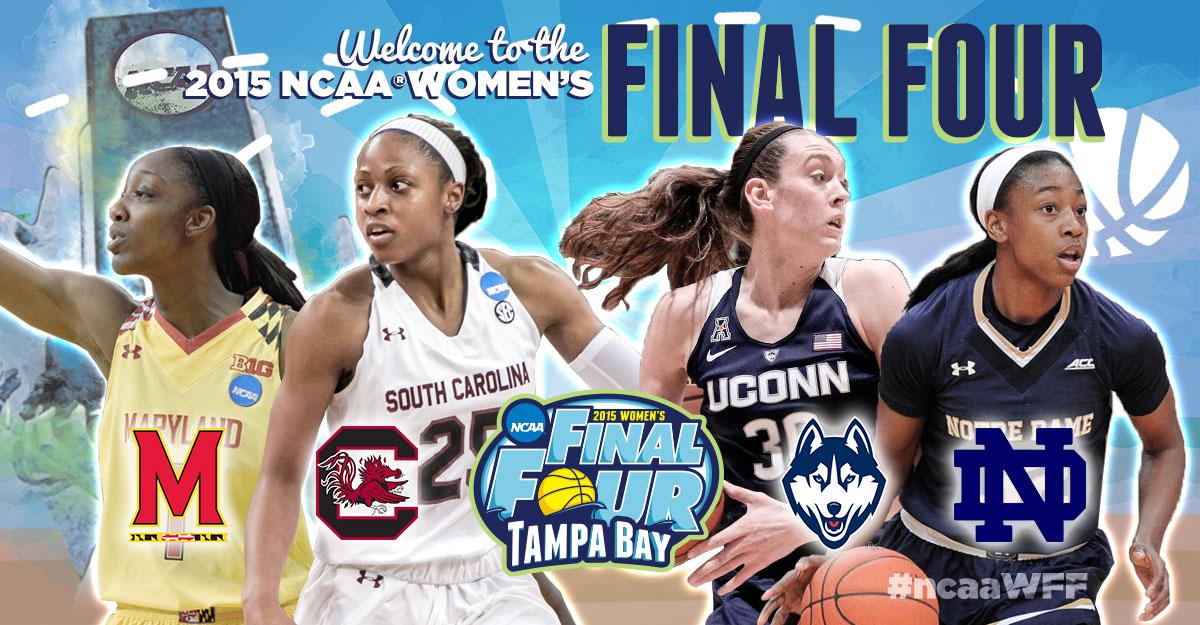 Women's Final Four in Tampa Bay, Sunday April 5
1 South Carolina Gamecocks vs. 1 Notre Dame Fighting Irish 6:30pm ESPN. Analysts- Dave O'Brien, Doris Burke, Holly Rowe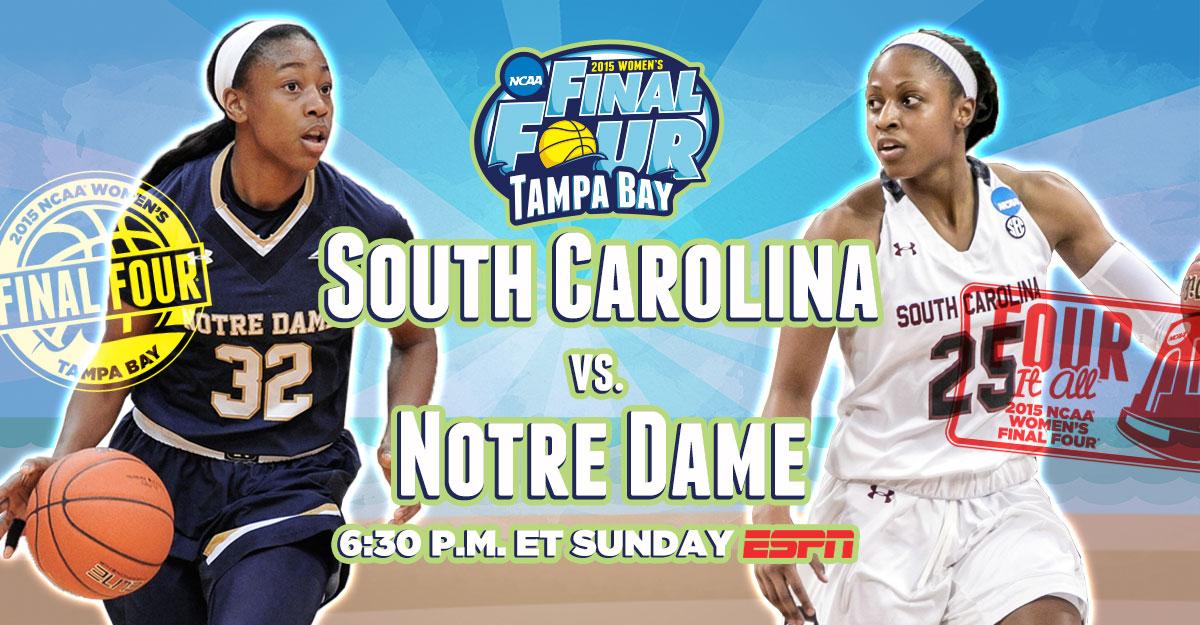 Both South Carolina & Notre Dame are coming into the Final Four hot, this is the Gamecocks 1st ever trip to the Final Four & coach Dawn Staley 1st also. The Lady Fighting Irish are in there 5th straight Final Four, lead by Junior Guard Jewell Loyd & are on a 21 game winning streak. The Lady Gamecocks are lead by Junior Guard Tiffany Mitchell. Now the lady Irish average 81.2 Points a game & the lady Gamecocks average 75.5 points a game. Both squads hold down their opponents to under 60 points a game, I don't see that in this game. Both of these teams lost to UConn this season, but one these teams will be going home with a 3rd Loss, I like Notre Dame to get there rematch with Uconn, but make no mistake, we have not seen the last of Coach Dawn Staley & her Lady Gamecocks getting to Final Four, this could be only the beginning.
1 Connecticut Huskies vs. 1 Maryland Terrapins 9pm ESPN. Analysts- Dave O'Brien, Doris Burke, Holly Rowe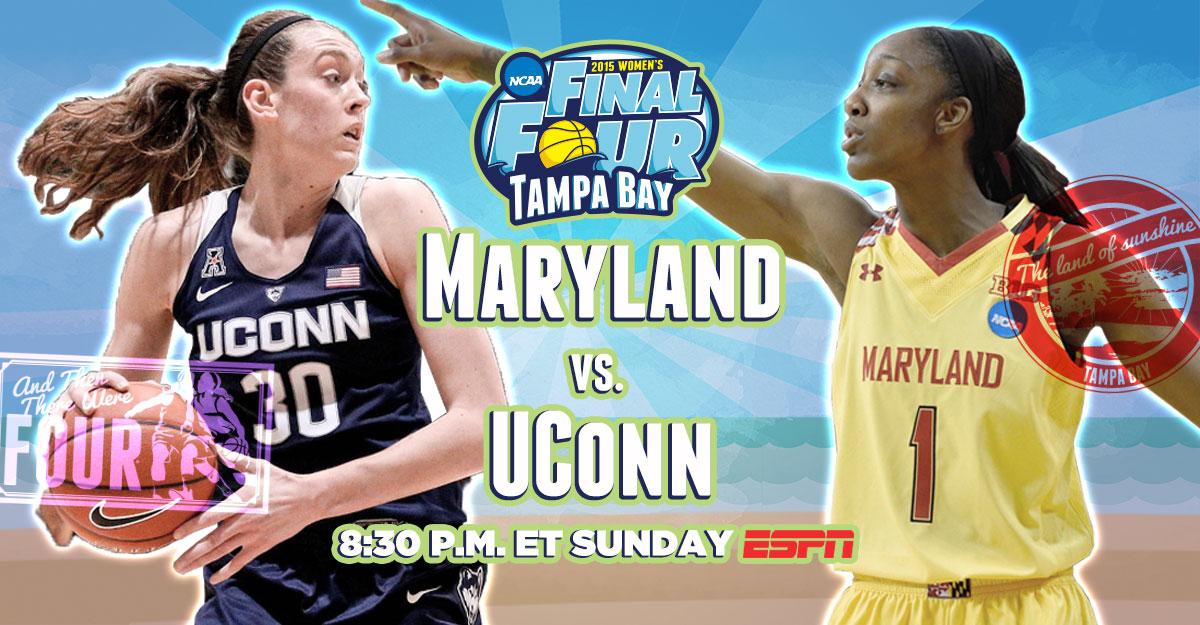 My Maryland Women Terps have a had tough road to get to Tampa Bay, with them beating undefeated Princeton, Duke & Tennessee to get to the Final Four, but now Lexie Brown & the Lady Terrapins put their 28 game winning streak on the line vs. the Connecticut Lady Huskies & lets see the Lady Huskies have won 35 straight games, only lost 1 game in almost 3 seasons, in their 8th straight Final Four, Breanna Stewart & Kaleena Mosqueda-Lewis are playing great women's basketball. The Huskies average 89.7 points a game while they keep their opponents under 50 points per game. Coach Geno Auriemma has build the biggest powerhouse right now in the main college sports in Storrs, Connecticut. But I do believe Coach Brenda Frese which is in the Final Four for a 2nd straight year with the Lady Terrapins, can keep this game close. If Sophomore Center Brionna Jones & Senior Guard Laurin Mincy can keep this game in reach, my Lady Terrapins could have a fighting chance, but right now UConn looks unbeatable & I will pick them to get pass Maryland in this Final Four Game.
National Championship Game in Tampa Bay, Tuesday April 7 8:30pm ESPN. Analysts- Dave O'Brien, Doris Burke, Holly Rowe
I'll be back to recap the Road to Madness Finale with both National Champions.