Demarus Dye| BKD TV Insiders
The Rebound
s(Best) & Blocks(Worst) of the 2017-2018 season returns on a limited basis & lets take a look below at the start of the NBA Season, also thanks to NBA & ESPN.com for stats & articles also.
Rebounds
From David Aldridge: So … what's the point of playing this season?   The Golden State Warriors are still the prohibitive favorites to repeat this season, next season and into the foreseeable future. But it was good to see a good chunk of the Western Conference — the Houston Rockets, Oklahoma City Thunder and Denver Nuggets, to name three teams — not fold before the first card is dealt. That fact alone is incredibly important. The Warriors are still the best team in the West, without question. But if teams don't even try to get better, or spend money to compete, the whole rationale for playing fades away.The Thunder could have rode Russell Westbrook alone to another first-round playoff loss, watched him walk out the door in free agency next summer and thrown up its hands, plead 'woe is us and all small-market teams,' and enjoyed a luxury tax-free life for the next few years.The Rockets could have just kept selling tickets to fans to watch James Harden and his pals shoot 50 threes a game for the next two or three years. It's an appealing brand of basketball.

Denver could have just kept building through the Draft, climbing a few more wins here or there for a while, and snuck into the eighth seed, choosing to be comfortable rather than bold. But they didn't. They've called and raised. In all likelihood, it won't be enough to beat Golden State. But those teams can sleep well at night. They're not cheating their players, or fans.

Captains Will Draft Teams, Play for Charity in New NBA All-Star Game FormatThe NBA announced a major revamp to its All-Star Game format on Tuesday, with the new rules taking effect for the 2018 game in Los Angeles.

Under the new system, two captains will draft teams out of a pool of players voted in as starters and reserves. The leading vote-getter from each conference will serve as a captain, and will get to hand-pick their sides out of each pool.

The selection process will remain the same, with 12 players from each conference being voted in and starters selected by a combo of fan vote, player vote and media vote. Head coaches will again select the 14 reserve spots.

In addition, the teams will play for local charities, adding incentive in theory to win the game. The game is set for Feb. 18 at Staples Center.

"I'm thrilled with what the players and the league have done to improve the All-Star Game, which has been a priority for all of us," NBPA president and Houston Rockets guard Chris Paul said in a statement.  "We're looking forward to putting on an entertaining show in L.A."

The league has not yet provided details as to how the draft itself will work, but the potential for stars and teammates pairing up or going head to head adds layers of intrigue.
3. From Kevin Durant: Giannis Antetokounmpo could be best player ever
Asked which active player would you start a franchise with today, NBA general managers had Giannis Antetokounmpo among the top selections. Earlier this summer Kobe Bryant issued out a challenge to the Milwaukee Bucks forward to win 2017-18 Kia MVP. That happened not too long after Kevin Durant said "it's guaranteed" last season's Most Improved Player will be an MVP one day.
The Warriors All-Star went a few steps further on Friday during a Q-and-A session on his YouTube channel, claiming Antetokounmpo could end up being the greatest player to ever step on the court.
"The Greek Freak, I think, is a force. I've never seen anything like him," Durant said. "His ceiling is probably — he could end up being the best player to ever play if he really wanted to. That's pretty scary to think about."
Durant added: "He's by far my most favorite player to watch."
Antetokounmpo, 22, is coming off the best campaign of his young career, posting 22.9 points, 8.8 rebounds, 5.4 assists, 1.9 blocks and 1.6 steals, which were career highs in every category. He became just the fifth player in league history (and the first since LeBron James in 2008-09) to lead his team in points, rebounds, assists, steals and blocks last season.
Blocks
Kawhi Leonard (quad) expected to miss season opener

Kawhi Leonard still isn't ready to play.

San Antonio coach Gregg Popovich said the All-Star forward needs more time to get his injured thigh muscle right, meaning he won't be out there when the Spurs open their regular season on Wednesday against Minnesota.

"He's still rehabbing and when he's ready, he'll be ready," Popovich told reporters in Houston before San Antonio's preseason finale.

Leonard didn't play at all in camp or preseason, after a year where he averaged 25.5 points – raising his scoring average for the fifth consecutive season – and finished behind only Russell Westbrook and James Harden in the MVP race.

San Antonio is 14-4 over the last two regular seasons without Leonard.

After Wednesday's season opener, the Spurs next game will be in Chicago on Saturday, October 21.

2. Portland Trail Blazers' C.J. McCollum suspended one game for leaving bench

Portland Trail Blazers guard CJ McCollum has been suspended one game without pay for leaving the bench area during an altercation, it was announced Saturday by Kiki VanDeWeghe, Executive Vice President, Basketball Operations.

The incident occurred with 9:33 remaining in the fourth quarter of Portland's 113-104 preseason win over the Phoenix Suns on Oct. 11 at Talking Stick Resort Arena.

McCollum will be suspended for the first game of the 2017-18 NBA regular season for which he is eligible and physically able to play.

2017-2018 NBA Season Preview
Kia MVP: Giannis Antetokounmpo, Milwaukee Bucks
Kia Defensive Player of the Year: Kawhi Leonard, San Antonio Spurs
Kia Rookie of the Year: Kyle Kuzma, Los Angeles Lakers
Coach of the Year: Jason Kidd, Milwaukee Bucks
Sixth Man of the Year Award: JR Smith, Cleveland Cavaliers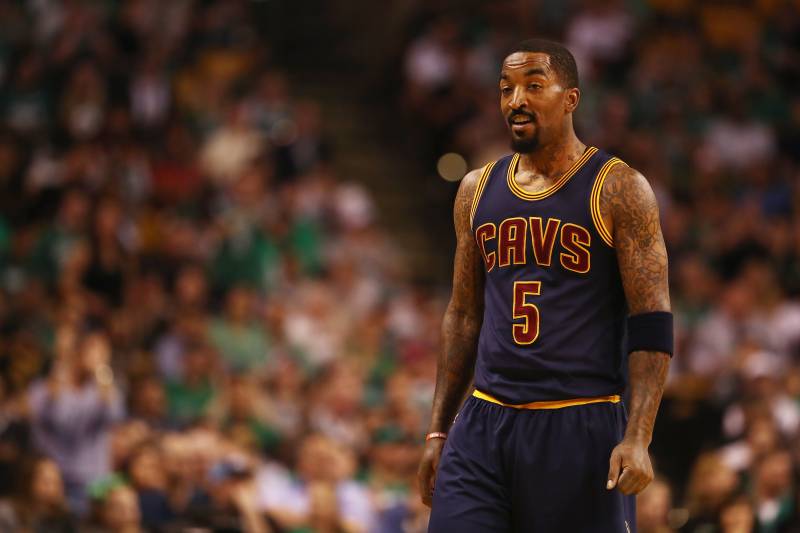 Eastern Conference champion: Boston Celtics
Western Conference champion: Golden State Warriors
NBA champion: Golden State Warriors
Finals MVP: Draymond Green, Golden State Warriors
NBA 2017-18 Conference Standings Predictions
Eastern Conference
1 Boston Celtics
2 Washington Wizards
3 Milwaukee Bucks
4 Cleveland Cavaliers
5 Toronto Raptors
6 Miami Heat
7 Philadelphia 76ers
8 Orlando Magic
Western Conference
1 Golden State Warriors
2 San Antonio Spurs
3 Oklahoma City Thunder
4 Houston Rockets
5 Memphis Grizzlies
6 Minnesota Timberwolves
7 Portland Trail Blazers
8 Denver Nuggets